Bio - Rejuv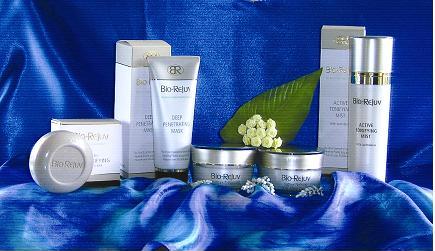 The Bio-Rejuv range of skin health products are indeed a new revolution in treatment and caring for skin. Suitable for all skin types and comprising over 70% active ingredients from nature, all Bio-Rejuv products have been designed to promote a normal, balanced skin.
Carefully selected nutrients and essential oils have been combined with the highest grade colostrum (41%IgG) available, to provide organic compounds in their natural state which studies have shown significantly assist in the rebuilding of healthy skin. Combined with the unique essence of over 700 varieties of healing herbs and plants, these precious gifts of nature synergistically combine to bring harmony and balance to the skin. This can be felt within moments of application.
A simple, effective range of only 5 products to rejuvenate your skin so you look and feel younger and more beautiful… from inside out
CLEANSING BAR The Bio-Rejuv Cleansing Bar does more than wash your skin. It is a complete daily balancing, stimulating, and nourishing treatment that is rich in bioactive compounds that reach far beyond conventional cleansers, deeply purifying and simultaneously ridding the skin of toxins and residues that block the pores. These bioactives further serve to feed and nourish the skin while stimulating, normalising and strengthening activity. Completely free from soap or alkaline detergents, the Bio-Rejuv Cleansing Bar maintains the delicate pH balance throughout the skin leaving it toned and stress-free. Appreciate the benefits immediately as it leaves the skin free to breathe, producing a glowing, healthier skin that is toned and smooth to the touch. So gentle, it's great even for new-born babies.SGD66
ACTIVE TONIFYING MIST Bio-Rejuv Active Tonifying Mist takes the concept of skin toner to a new dimension. The fine mist boasts over 90% active ingredient comprising the essence of the 700 varieties of healing herbs and plants working to optimise the pH while toning the skin.
The pH balance of the skin is vital in achieving and maintaining a healthy, stress-free state, and provides the body's first line of defence against airborne viruses and bacteria. To enhance this natural defence, Lactoferrin has been added – a potent anti-microbial protein that occurs naturally in milk. SGD69SATINYL REFINING CREAM Bio-Rejuv Satinyl Refining Cream is specially formulated to deep penetrate tissue layers, nourishing and promoting a renewed state of vitality and health to the skin. The Satinyl Cream boasts over 70% active ingredient to not only feed and enrich the skin, but also to assist in overcoming the effects of poor circulation, dehydration and stress, all of which weaken the skin allowing fine lines and wrinkles to appear. Satinyl Refining Cream is suitable for use on all areas of the face, neck, shoulders and hands.SGD94
MOISTURE ENHANCING CREAM Bio-Rejuv's Moisture Enhancing Cream is a rich moisturising agent that will not leave the skin with an oily or greasy feel. Specially formulated to be absorbed by the skin to not only nourish and protect from harsh environmental conditions, but to actively promote a renewed level of health and vitality.SGD92
DEEP PENETRATING MASK The Bio-Rejuv Deep Penetrating Mask sets a new benchmark in the field of facial treatments. Its unique natural structure and high organic concentration allow it to deep cleanse the skin in only six minutes. The composition of healing herbs and plants allow it to work in harmony with the skin discerning between the vital natural agents and unwanted wastes and toxins. This allows the pleasure of a remarkable level of skin purity while the delicate moisture levels and pH remain undisturbed.
More than simply a purifying agent, the mask is most valuable for its contribution in triggering a chain reaction of natural processes within the deepest tissue layers to promote a healthy, balanced and glowing complexion. Used regularly it will assist the skin to achieve an optimum level of function providing the best defence against the aging process, resulting in a strong and radiant skin!
---
Bio Rejuv Deep penetrating mask 110g
SGD 82
Fre delivery for Singapore only