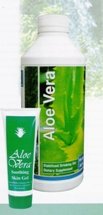 Aloe Vera
New Image ALoe Vera is sourced from succulent Aloe Vera leaves organically grown on pesticide-free farms in Australia. It is 100% cold processed and stabilised to preserve natural enzyme action and ensure the highest quality.
The ALoe Vera Drinking Gel contains 98.8% pure aloe vera (no added water) and Aloe Vera Soothing Gel is 94% aloe vera and 0.25% eucalyptus. Both products are fragrance-free, have no added colours and negligible aloin content.
Herbalists and Naturopaths believe that Aloe Vera can:
Help settle the stomach
Promote smootth and natural digestion
Soothe the lining of the stomach and intestines
Assist with maintaining healthy intestinal bacteria
Aid digestion
Act as a liver tonic
Support the immune system against allergies
Soothe the gut
Condition the hair and scalp, prevent shaving rash, general skin care

The Aloe Vera Soothing Gel - known as first aid in a tube - also helps in healing burns, wounds, insect bites. The salicylic acid and magnesium in aloe vera work together for an analgesic effect on burns. Applied to wounds, the gel not only reduces pain and infection but also stimulates cell regeneration and the growth of new tissue and skin, significantly reducing scarring.

Aloe Vera contains more than 200 nutrients, just a few are: 8 essential amno acids, 12 non-essential amino acids, 12 anthraquinones, 10 enzymes, minerals and vitamins.
---
ALOE VERA DRINKING GEL 1L
SGD66
FREE Delivery anywhere in Singapore only.
ALOE VERA SOOTHING GEL 120g
SGD25
FREE Delivery anywhere in Singapore only.
To view more products endorsed by Health Coach International, click here.