Lose Weight Safely!
TV host loses weight, but loses his health too
As reported by Charlene Chua in The New Paper, 18 September 2009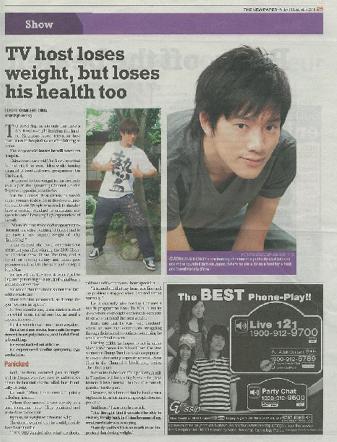 The weight loss plan that landed Singapore-based TV host Icaru Yuan in hospital twice: Eat only one meal a day!
The 27-year old who gained weight while hosting Channel U food and travel programme, On the Beat 4, wanted to lose 5kg for his next role as a cop in a upcoming Channel 8 series, Together.
So two months ago, China-born Icaru started a strict diet which consisted of one low-fat meal a day, such as soup. He also went for two-hour runs every day.
But after three weeks, Icaru said he experienced heart palpitations, and had difficulty breathing. He even blacked out at home. He experienced similar symptoms two weeks later.
Panicked
Both incidents occurred pass midnight and his friends who lived nearby had to rush him to the hospital.
By then, his weight was down to 67kg (from 75kg).
The doctor warned that he could possibly have heart trouble. He went to see a heart specialist and fortunately, it turned out his heart was fine. His problems stopped when he started eating normally.
However, he admitted that he has learnt a big lesson from his harrowing weight loss experience
Said Icaru, "I was very homesick. The thought that I wouldn't be able to visit my family back in China because of my weakened state was very worrying.
"Family and health is so much more important than losing weight."
For an integrative weigh loss program that's guaranteed to help you lose weight safely, click here.

For a safe and healthy diet plan, click here.